International Origin & High Quality Cultures.
Order Now: Whatsapp No. +91-8277718123
Live, Natural, Big Size and Pure Kefir Grains
FREE Double mesh strainer & ABS food grade Spoon
FREE delivery by Courier
Locally cultured at our home, done in small batches only.
Based in Bangalore, we deliver throughout India!
100% Gluten Free & GMO Free
Developed with organic A2 milk
High Bacteria Count
Rich source of calcium, protein and B-vitamins
Builds Immunity & Fights Allergy
You will Buy only once!
FSSAI registered
Trusted supplier of Kefir grains & Kefir drinks to Nutritionists and Doctors
100% Safe Shopping (SSL Certified Website)
Free Replacement if the Kefir Grains die on transit.
UNLIMITED Lifetime WhatsApp Support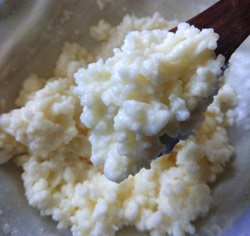 MILK KEFIR GRAINS, INDIA
Rs.875/- (All Incl. Price) For Milk kefir grains 1 Tbsp – Free Delivery + Free Double Mesh Strainer & ABS Stylish Spoon
1 Portion of milk kefir grains makes upto 1 liter milk into kefir milk per batch.
Rs.1490/- (All Incl. Price) For Premium Hand Picked Milk kefir grains 1.5 Tbsp – Free Delivery + Free Double Mesh Strainer + ABS Stylish Spoon
A2 Milk Nourished Premium Quality Grains
1 Portion of milk kefir grains makes upto 1.5 liter milk into kefir milk per batch.
Kefir starter grains will be sufficient to culture 3-4 cups of milk on daily basis, suitable for a family of 4-5 members. Same or Next Day Dispatch! We use Courier service for all India Delivery, Dunzo delivery within Bangalore as per the actual charges.
We offer the best home-grown organic A2 milk kefir grains sourced from multiple sources to get best probiotic kefir drink with multiple strains of good bacterias and yeast. Our kefir grains are daily fed with grass fed cow's milk and never dehydrated or nor frozen to maintain good health of the kefir grains and keep the balance of healthy bacterias and yeast in optimum level.
The Quality Guarantee: We assure the quality of the kefir grains, we pack live active grains directly from the fermentation jar and feed with sufficient milk in transit to keep them active and alive. The health and freshness of grains are guaranteed and free replacement is given if the grains are dead in transit.
Organic Grains: Our grains are regularly fed with high quality milk from farm, never frozen or dehydrated.
e-Book Guide: We give you a comprehensive tutorial guide, with clear step-by-step instructions, FAQ's Answered, demo video, delicious recipes post fermentation and provide unlimited call or WhatsApp support until you become expert.
Money Saving: Our pricing is very affordable, the grains are reusable, and you can use it lifelong following our simple instructions. You can also gift the excess grains to your family and friends.
Free Consultation: We provide free consultation on fermentation, good practices and related process over phone, or in person who visits us / delivery within Bangalore city limits.
Kefir Grains Packed Safely & Shipped: We pack kefir grains in sturdy BPA free plastic container, feed with sufficient milk and sealed. We give multiple layer of protection for safe transit. The kefir grains will be healthy for 18 days in packing, the courier will reach within 4-5 days throughout North India and 1 or 2 days within South India.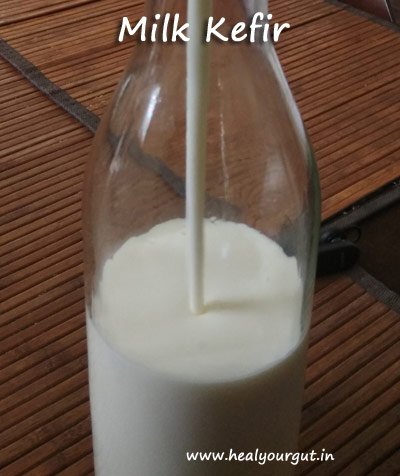 Order Now: Call Us or Whatsapp +91-8277718123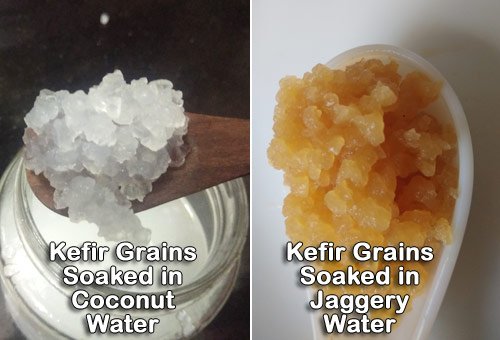 Rs.875/- for 3 Tbsp Water kefir grains (All Incl. Price) Free Delivery + Free Double Mesh Strainer + ABS Stylish Spoon
What are water kefir grains?
Water kefir grains are a symbiotic colony of good bacteria and yeast which feeds on sugar and ferments a wonderful probiotic enriched carbonated drink. Using these water kefir grains we can easily ferment plain water with sugar (sucrose) or jaggery or tender coconut water. Please note, the sugar or jaggery is only for the bacteria's and yeast to feed, after the fermentation process is complete the sugar content will be broken down and converted to probiotic elements beneficial for the gut.
How does water kefir grains appear?
Water kefir grains appears like large salt crystals, but soft and smooth in texture. The kefir grains are translucent in color, and it actually picks the color of the sweetener. If we add the kefir grains to jaggery water, it turns golden in color and if the same grains are added to the sugar water or coconut water, it turns crystal clear transparent.
How does water kefir or coconut water kefir taste?
The water kefir once fermented tastes bit sour, slightly vinegary and gives sparkling sensation like natural soda. It is best to have mixed with fruit juices for a refreshing drink. The coconut water kefir tastes like natural fizzy soda, with a mild touch of sweet and sour taste and gives a refreshing sensation.
Why should we drink water kefir or coconut water kefir?
Dairy Free Probiotic Drink – People who want to avoid dairy can choose to have water kefir or coconut water kefir as an alternative for milk kefir to increase their good microbiome in the gut.
Coconut Kefir Soda Benefits – Coconut water kefir is one of the best fermented drink, as it not only adds probiotic elements to the gut, it also adds important natural coconut water minerals, beneficial enzymes for digestion aid, electrolytes, amino acids, antioxidants, B vitamins and also helps to maintain healthy pH in our gut lining.
Well Tolerated for Allergic People – People who have gluten intolerant issue, lactose intolerant, casein protein intolerance and celiac diseases can try water kefir or coconut water kefir and build their gut health and immune system.
Very Easy to Prepare – Water kefir preparation consumes not less than 3 minutes every day to make fresh batch. We don't need any special skill to prepare water kefir, just adding the kefir grains to sugar water and ferment.
Easy to maintain – Water kefir grains are easy to maintain even if you have to take a break from fermentation, just add the kefir grains in the sugar water and place it in fridge for few weeks.
Reusable and Multiplies Quickly – Water kefir grains are reusable and multiplies very quickly when nurtured well. You can share it with your family and friends or add to a smoothie and consume.
Add Water Kefir to other Recipes – Water kefir can be used as base for other fermentation's like coconut milk kefir, vegetable fermentation, or fruit juice fermentation.
Ready to Drink Milk Kefir and coconut water kefir is also available! Please check the package.
What is the difference between Water Kefir vs Milk Kefir? Which is better?
Order Now: Call Us or Whatsapp +91-8277718123
ORGANIC KOMBUCHA SCOBY + Free Strainer
Rs.790/- (All Incl. Price) FREE DOOR DELIVERY!
We will supply 1 grownup SCOBY and required starter ready Kombucha tea for you to start your culture.
We are a small family dedicated to supply fresh traditional live kefir (pronounced as "kuh-feer") grains and Kombucha tea which are organically cultured to benefit our family and the public.
Our Kefir cultures are maintained with locally purchased organic milk, guaranteed viable and healthy, and packaged in glass jars. The grains will last and grow indefinitely so it is effectively a lifetime supply for you, your family and friends.
We will pack one portion of Kefir Starter with cow milk. You can start culturing at your home and use it following the instructions.
For Kombucha tea, we use organic tea leaves and sulphurless organic sugar to brew best concoction.
Victoria Harrop, Isle of Man, UK
I first came across kefir when a family member was very ill. I heard a lady on BBC Radio discuss how she believed how it had healed her. Read more…
Dr.Veena Srivastava
(Scientist, Microbiologist & Nutritionist)
I was diagnosed with idiopathic interstitial lung disease in 2014, with only about 56% lung capacity left. Read More..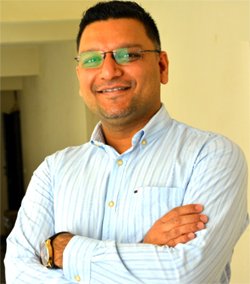 A write-up by a parent of Autistic child at Parentree.in (Children Health Forum)
Visit Parentree Website https://www.parentree.in/India/Autism/33008-dr-praveen-kumar-saxena-in-hyderabad-for-autism/pg3
Media Featured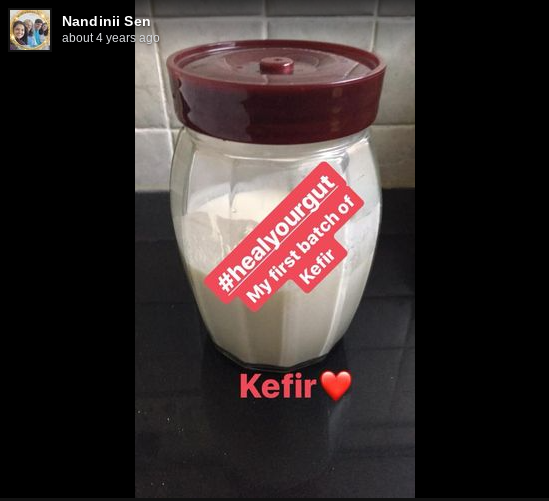 Google Reviews
I'm wasim Shaikh from pune. I'm suffering from IBS digestive problems from long time. Recently i purchased kefir grains from this website. I started making kefir at home and taking... read more daily half cup. The results is amazing. My digestive has improved a lot in just 4 days. Thank for giving good quality kefir grains. Regards wasim.
wasim shaikh


October 28, 2022
I had ordered water kefir grains from 'Heal your gut', have been using them for 2-3 weeks now. The grains are really good, better quality from what I had used... read more in the past. The team delivered the grains within 2 days in safely packed bottle. They also helped me with process and answers of other questions which I had. Thanks a lot Sathya and team.
Neha Varoliya


October 18, 2022
Two weeks back, I had purchased the kombucha starter kit and 4 litres of ready to drink kombucha from Sathya. The quality of the products were excellent! Equally so, Sathya's... read more prompt replies and patience with my numerous questions made me feel like I was having a conversation with a friend! A very pleasant experience overall! Thank you, Sathya.
Sandeep Vitta


August 18, 2022
Thank you so much for the mother for Kombucha. It worked wonders in the first fermentation cycle itself. Loved it. Also a special thanks goes to your way for all... read more the support and discussion we had whenever i had any doubts. Would definitely recommend Heal Your Gut to actually heal your gut 🙂
Dr Pooja Chetal Dewan


October 18, 2022
I have a very good experience with Heal your gut (Sathya ji) I have ordered milk kefir grains and I am a beginner without having much knowledge of it, I... read more have got full guidance and cooperation of Mr. Sathya from the stage of enquiring before ordering till I received and fermented it. Grains are of very good quality and received with proper packaging with timely delivery. If you are looking for kefir or any related item, I would recommend you to go with Heal your gut without any worries. Thank you Sathya ji !!
vinit kalwani


August 18, 2022
This is my second purchase...the quality of the kefir grains are the best I have bought so far. They ensure the grains reach your door step. Not just that, they... read more answer every question you have at any time...excellent service.
Kim Wallace


July 18, 2022
I was absolutely overjoyed to find Kefir grains in Bangalore. It was my first time ever making kefir and Sathya was very helpful in getting me started and promptly... read more answered any queries. The ready made kefir available with them is an absolute beauty and was what hooked me on to this drink. Delivery is prompt and smooth. I hope more and more people become aware of the amazing Kefir and bless Heal your gut for bringing this invaluable food to our tables.
R M


September 18, 2022
This place not only provided me with kefir grains but also time and patience while helping me through the learning process of making kefir. After making some mistakes they were... read more very patient and helpful and helping understand where I went wrong and in correcting my mistakes. Love their enthusiasm and commitment to healthy guts across India!
Meera Fernandes


September 18, 2022
I got coconut water kefir grains from heal your gut recently. They were shipped promptly, proper instructions were sent on the same day so I have some time to learn... read more how to care for them. After I got the grains I had a few additional questions which were answered in no time. The grain quality looks great and I made 2 batches of kefir successfully. Below are two flavors of kefir I made recently -- hibiscus and fresh ginger+lime. The service was extremely cordial, everything was packed with care, and delivery was on time. Truly happy with my grains.
Varangi Vora


November 18, 2021
---
Nutritionist Recommended >>
Customer Testimonials –
"I am 42 year old, from past 2 years I was suffering from Asthma (breathing issue) and digestive disorder which both were inter-connected. I had been to several doctors including Allopathy, Ayurvedic and Homeopathic as well, which didn't give me any results. I was forced to keep Asthalin pump on choking emergencies.
Later, I got some information online
by browsing Dr.Mark Hyman videos related to functional medicine and its good effects. Dr.Hayman gave more importance in improving good bacteria's in the gut through adding probiotic in the diet. So, I learnt about Kefir in detail which is a top source of probiotic and got in touch with Kefir team to source the Kefir grains online. I am consuming kefir drink on daily basis before my breakfast on empty stomach. I could see improvements within a week and digestive issues were also improving. Now, it is almost two months, I am totally relieved from Asthma and stomach disorder. I am really thankful to Dr.Mark Hayman and Heal your Gut family."
Saravana.J 06/Dec/2016 Bangalore
——————————————-
My name is Manivannan, diabetic since 10 years. I had leg inflammation and constipation for last 6 months. I got know about Kefir drink through Neander Selvan (United States) and its effectiveness. I started searching for Kefir grains in Bangalore, I found HealYourGut website and ordered online. It was delivered to home on the same day and was explained by their delivery person. I started consuming kefir drink, which seems to helping a lot in digestion, bowel moment and I can see improvement in reduction leg pain. My sincere thanks to HealYourGut team.
ManiVannan 15/Dec/2016, Bangalore
——————————————-
Was quite impressed with the immediate response from Sathya. He came home personally and delivered the Kefir grains in a glass jar and also brought along the ready made Kefir drink in another bottle. He explained the benefits of the drink and also explained in length about how we could achieve better results by making a few lifestyle changes.
Seema Venugopal 21/01/2017, Bangalore
——————————————-
I am 39 years old and was suffering palpitation, stress, gas inflammation, and indigestion. I visited many doctors, but they only cured the symptoms for that particular period of time and not the root cause. All allopathic medications caused me many side effects and sleeplessness.
Later, I heard this probiotic drink "Kefir" from Sathya, I thought why not give it a try? For my surprise all my problems started vanishing in a very few days and now I feel much more healthy and active. My problems got solved without any side effects.
Ravi, Bangalore 20/02/2017 More Testimonials >>
——————————————-
Important Links

Our Youtube
Important Link: Dr.Mark Hyman (Functional Medicine Doctor for Ex-President Bill Clinton) on Gut issue, Diabetes, Allergies, Inflammations, cardiovascular diseases, etc., and how Probiotics and Prebiotics helps to address major health issues with simple lifestyle change & no medications. (10 Minutes Video only)
Buy Kefir Grains Online Throughout India : Kefir Grains in Delhi, Noida & Faridabad, Kefir Grains in Mumbai, Pune & Nashik, Kefir Grains in Andhra Pradesh, Telangana & Hyderabad, Kefir Grains Chennai, Madurai, Trichy & Coimbatore