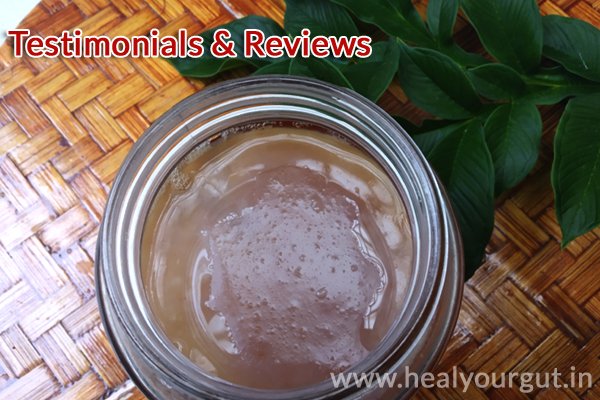 I am 68 yrs old a chronic patient of diabetes and a breast cancer patient too ( surgery done 3 yrs ago and radiations 27 sittings). I came to know about the goodness of kefir grains in Google and found that starter kefir grains are available in Bangalore, at Heal your gut. I placed an order and started regularly making my own kefir at home.
I am taking hormonal tablet for cancer which has some side effect of osteoporosis – due to which I was going through lots of body pain earlier. Now I am very happy to say that my body pain has reduced significantly.
Secondly, I am a diabetic person with high blood pressure, gastric problems and nerve problem, all these issues have eased down. Now, I find that my sugar levels both fasting and post prandial both are showing perfect results since last one week (of course I am taking all of the medicines) but it was not the same way before. Feeling very energetic too. Doing almost all the jobs of cooking in the kitchen too.
Anybody with these problems can try kefir atleast once. But yes! the results won't show the next day as I could notice it only after taking it for atleast one month . So try kefir, it is not a costly affair also. But, please consult your doctor for any change in diet and all your medications are must!
Ms.Chandan Sinha, Chennai 20, Aug, 2018
——————————————-
Hi
I am Swetha .G
I am 25 yrs old , from Bangalore.
I have been diagonised with IBS-C since two years …
I had IBS symptoms since my childhood, my mom has it too, so it is hereditary for me.. but not so severe…
But once when I took the iron tablets which was prescribed by doctor for 6 months in the year 2017, my IBS reached peaks …
I was severely suffering from acid reflux, stomach pain and severe constipation, I didn't get any relief from medicines, my life had literally turned into hell.
Since I was lactose intolerant also ,I was not suppose to take curds (probiotic) also … My body was in need of probiotics ..which I could not fullfill .. Though I knew and had heard about other probiotics like kefir and kombucha, but was not aware that I could get them in India too.
Any human body has lot to do with good bacteria in their gut, if there are no proper probiotics balance in your gut, it can lead to many digestion and immunity problems like thyroid , PCOD and IBS ..
I suffer from all the above problem's ..
Then I found out that we can get kefir in Bangalore too from Sathya, who sent it for me… I am so thankful to him…he is literally my life saver..
I am taking coconut water kefir everyday from past 9 months , and I started to see the difference in my IBS symptoms from first week itself . Now I can strongly say that my digestion and immunity has improved a lot, I have gained optimum weight …I can eat more foods without much symptoms, I also follow foodmap diet for better results …
So people who are suffering from such issue, please try kefir once, instead of spending thousands of rupees….
I would want to suggest for people who are suffering like me…
I also recommended it to my sister and mother …they are taking it too..
U will definitely be relieved..
Thank you 🙂
SWETHA .G
Ms.Swetha, Bangalore September 06th, 2018
———————————————